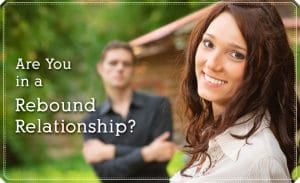 Many singles seem to go from one rebound relationship to the next in search of that ultimate relationship. The only problem is that the vast majority of rebound relationships end as well, which makes daters feel worse then the previous relationship. As someone who worked in the Family Court system, I saw the sad effects of rebound relationships everyday.
The Thinking Behind  Rebound Relationships
The thinking behind rebound relationships goes like this: "Although my previous relationship failed, this one will be better. This one will last forever." And so the person just lost one relationship goes blindly into another.
Of course, anyone who has lost love can understand and empathize with people who are rebound daters. Losing a relationship is always difficult, and leaves a great void that calls out for filling. Worse yet, relationship loss due to a cheating boyfriend or girlfriend or outright rejection will lessen an already low self-esteem.
Today, if you are going through pain associated with loss and rebound relationships, remember you have a Precious Saviour who understands where you are, even if freinds and family do not:
Bible Verse of the Day
For we do not have a high priest who is unable to sympathize with our weaknesses, but we have one who has been tempted in every way, just as we are—yet was without sin. Let us then approach the throne of grace with confidence, so that we may receive mercy and find grace to help us in our time of need.
Hebrews 4:15,16
Related: