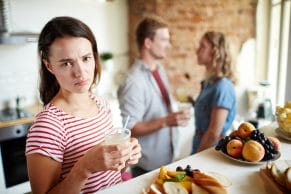 Are you wondering how to overcome jealousy in a relationship? Do you have a jealous dating partner? Jealousy is one of the most destructive and painful emotions in a Christian dating relationship. A jealous dater can think and do some wacky things he or she would not normally think of doing. That's why learning how to overcome jealousy when it crops up is so important.
How to Overcome Jealousy Dating Stats
According to a North American survey of marriage counselors, 33% of all couples in marriage counseling have jealousy problems as a root issue. Since jealousy is a universal emotion, I suspect European, Asian, African, South American, and Asian couples have similar dealings with jealousy.
Among Christian single couples, jealousy affects both traditional dating and courtship love relationships.
Just what does it mean to be jealous? Webster's Dictionary rightly defines jealousy as a "fearfulness or wariness of being replaced by a rival." In a dating or romantic relationship, this means the jealous girlfriend or jealous guy suspects there is a rival for the affection or attention of their partner. The object of the dater's jealousy could be an ex-boyfriend or girlfriend, (the most frequent complaint) or some other thing such as the person's children, job, or even the family dog. (Don't laugh about the dog, I once had a Family Court case related to this issue)
The problem with jealousy is that there are several kinds, which can get a little confusing. For example, there is God's jealousy (Exodus 20:5), which is always holy, just, and desirous of others' wellbeing. Then there is human jealousy, which often ends with disastrous results. Solomon writes of this kind in Song of Songs: "Jealousy is as cruel as the grave" (Sgs 8:6).
As sinners, we all need to learn how to cope with the human kind of jealousy, whether we experience it in our own hearts, or have others being jealous of us.
Most singles are able to control acting out their jealous impulses. However, for others, overcoming jealousy is almost impossible without God's help. This form of jealousy is pathological and could lead to the crimes of passion we often read about in the newspapers, or see in movies.
As a single Christian seeking true love in a relationship, it's very important for your own dating safety to know some "red flag" signs of a pathologically jealous person.
Red Flags of Jealousy Out of Control
The dating or courtship partner continually accuses the other of being unfaithful when there is no basis for him or her to think this way.
The jealous person checks phone bills, emails, or the cell phone directory to check the partner's records of communication. They may even forbid their romantic partner to speak with certain members of the opposite sex.
The jealous dating partner forbids (i.e.: orders) the other single dater to wear certain things in public.
The person with jealousy issues may go through the personal belongings of the other party looking for "evidence" of unfaithfulness
The person with out-of-control jealousy may follow or have one of their friends follow the other person to make sure they are faithful. In extreme cases, they may even 'bug" the home using electronic equipment.
The jealous party will keep tabs on their date by calling them constantly throughout the day. They may give an excuse ("I just missed you") as to why they are calling so frequently, but in fact, are distrustful of them.
The jealous person may want to be with the other person 24/7, and if the other single resists, there may be a physical or emotional outburst.
The jealous dating partner forces the other to give an account of all their free time away from them.
The person with pathological jealousy may threaten to do physical harm to themselves or to their dating partner.
When Your Christian DAting
Partner is Jealous
If you are a single Christian in any kind of dating relationship where you think the other party suffers from being jealous, or where one or more of the above jealousy red flags exist, we recommend:
Lovingly communicating to your friends that they need professional help.
Examine your own heart to make sure your behavior is not needlessly triggering jealousy in the other person.
Consider getting out of the relationship as soon as you can to ensure your own safety.  I would check out this other article to determine if, in fact, you are in an abusive dating relationship. While you may be tempted to stay in an effort to change them, or because the jealous partner may make an emotional promise of change, please don't give in.
How to overcome your own Jealousy
Overcoming jealousy will be easier if you understand its origin. Ask yourself: "Do my feelings have a basis in fact (the behavior of the dating partner), or are they coming from my own insecurity?"
The second step to address jealousy is self-awareness. Understand the root of your feelings. Once you've pinpointed the cause, take it to God in prayer. Ask for clarity, peace, and the strength to overcome these emotions. As Philippians 4:6-7 reminds us: "Do not be anxious about anything, but in every situation, by prayer and petition, with thanksgiving, present your requests to God.
If there is actually something the other party is doing that is inciting you to be jealous, have a heart-to-heart discussion with them. Often, an honest exchange of feelings will solve the problem. Open communication is the bedrock of any successful relationship. Share your feelings with your partner without placing blame. Instead of saying, "You make me feel jealous," try "I feel jealous when…". This way, you express your emotions without making your partner feel they're at fault.
Understand that your jealous behavior may actually drive away your date, the very thing you feared might happen
Admit you have a problem and seek guidance from trusted friends who know your situation, and/or an understanding Christian counselor or minister.
Get into the Scripture. The Bible has much to say about jealousy and relationships. Passages such as 1 Corinthians 13:4, which states, "Love is patient, love is kind. It does not envy," can be meditated upon. Let the Word guide and transform your perspective.
Cultivate self-worth. Jealousy often arises from personal insecurities. Dive into your relationship with God to cultivate a sense of self-esteem. Remember that you are loved and valued by Him, which gives you intrinsic value. The more secure you feel in your identity in Christ, the less likely you are to feel jealous.
Avoid unnecessary triggers. If certain situations or people exacerbate your feelings of jealousy, it might be wise to avoid them, especially during the healing process. This isn't about running away from issues but about giving yourself the space to heal and grow.
Celebrate each other. In a relationship, it's crucial to celebrate each other's achievements and joys without competition. When one wins, both win. Taking joy in your partner's successes and understanding that their achievements don't diminish yours can help quell feelings of jealousy. Remember to "rejoice with those who rejoice."
Stay accountable. Share your struggle with a close friend or mentor who can hold you accountable, offer advice, and pray with you. Having someone to talk to can provide an external perspective and ongoing support.
Encourage transparency with the other party. While it's crucial not to invade each other's privacy, being transparent can eliminate many sources of jealousy. Sharing feelings, plans, and even minor daily experiences can ensure that neither party feels out of the loop or sidelined.
Remember God's design for love. God designed love to be pure, selfless, and devoid of harmful emotions like jealousy. Whenever jealousy creeps in, remind yourself of God's blueprint for love and realign your feelings.
How to overcome jealousy
in a relationship conclusion
Overcoming jealousy in a Christian dating relationship is not just about ensuring harmony between partners but also about personal spiritual growth. By addressing jealousy head-on, with God's Word as your guide and prayer as your tool, you not only enrich your romantic relationship but also draw closer to God's plan for love. Remember, with faith and effort, any obstacle – even something as challenging as jealousy – can be overcome in the light of God's grace.
Please follow and like us: